Beesion establece una alianza mundial con Oracle para acelerar la transformación digital de los Proveedores de Servicios de Comunicación
Fort Lauderdale, FL, October 16th, 2020 – Beesion, empresa pionera del software BSS de Bajo Código, anunció hoy que se ha asociado con Oracle para ampliar su alcance global en el sector de las comunicaciones y obtener acceso a más empresas que se encuentren en el camino hacia la transformación digital.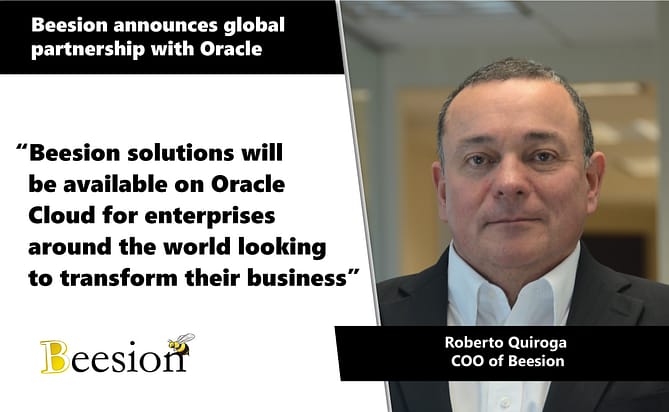 Mediante esta alianza estratégica, se dispondrá de una arquitectura de soluciones flexibles y modulares con aplicaciones y componentes de ambas compañías. Con esta arquitectura mejorada, más empresas de diferentes industrias, podrán impulsar su transformación digital y apoyar una estrategia digital a corto plazo.
Beesion aportará sus reconocidos componentes BSS, incluyendo un CPQ basado en Federated Product Catalog, CRM con Customer Engagement (CxM Suite), Credit and Collections suite y Customer Order Management, entre otros. Estos componentes de Bajo Código, basados en una arquitectura de microservicios, complementarán las aplicaciones y soluciones de Oracle.
Ambas empresas han firmado recientemente el TM Forum Open API Manifesto, lo que crea una sinergia única para impulsar la agilidad de la vertical de negocio de las comunicaciones, reduciendo los costos, los riesgos y el tiempo de comercialización. Esto permite operaciones altamente automatizadas y la gestión de servicios complejos de extremo a extremo a través de los ecosistemas digitales.
"Digital Transformation is in every enterprise agenda, and through this partnership, more companies will have access to the right tools to evolve", dijo Roberto Quiroga, COO de Beesion.
"Las soluciones de Beesion estarán disponibles en la nube de Oracle para las empresas de todo el mundo que busquen transformar su negocio", señaló Quiroga.
Acerca de Beesion
Beesion es pionera en sistemas BSS de bajo-código (Low-Code) para compañías de telecomunicaciones. La empresa global de 12 años ofrece más de 30 aplicaciones de bajo-código para ayudar a las empresas de telecomunicaciones a ofrecer nuevos servicios digitales al mercado, gestionarlos, monetizarlos y monitorearlos, personalizar la relación con los suscriptores, mejorar / automatizar las interacciones de atención, a través de la transformación digital omnicanal. Las aplicaciones se pueden implementar en la nube o en infraestructura local (on-premises), en una arquitectura distribuida carrier-grade de microservicios. Utilizando la tecnología Low-Code, las aplicaciones de negocio se pueden lanzar al mercado 10 veces más rápido que con el desarrollo tradicional. Además, son fáciles de actualizar y de mantener. La compañía ocupa el número 403 entre las de más rápido crecimiento en América del Norte según el ranking 2017 Technology Fast 500™ de Deloitte.
Más información sobre Beesion en www.beesion.com
Acerca de Oracle
Oracle Communications, una Unidad de Negocio Global de Oracle Corporation (GBU), proporciona soluciones integradas de comunicaciones y nubes para que los proveedores de servicios y las empresas aceleren su viaje de transformación digital en un mundo impulsado por las comunicaciones, desde la evolución de la red hasta el negocio digital y la experiencia del cliente
Obtenga más información sobre Oracle Communications en www.oracle.com/communications