Create marketing campaigns, coupons, surveys, and loyalty programs to build stronger relationships with your base.
Use data from existing systems to identify opportunities for rewarding and upselling your existing customers.

Plus, integrate seamlessly with Order Management for fast fulfillment
Today's Marketing
Software Failure
Most marketing software today is geared toward attracting new customers and moving them through the buying funnel. Applications are not equipped to market to existing subscribers. That's a big miss.
Telecom companies need to consistently market to their base to boost (or at least maintain) ARPU and drive loyalty.
Beesion Software: Market to Existing Customers Easily

With Beesion's
 POS Portal 360°
, every interaction at a company-owned store, dealer store or even telesales call can be a superior – and profitable – touchpoint no matter how little training reps have. Beesion's mobile POS software with a 360° customer view enables reps to 
find eligible rate plans
, proactively make suggestions, take multiple forms of payment and 
fulfill orders quickly
. You can even set up 
automated line queue and appointment setting options
. Adding functionality is as simple as adding applications.
Drive ARPU Today and Loyalty Every Day

Market to existing subscribers with the right offer, coupon, or reward from your loyalty program. Deploy one or multiple Beesion software applications. Each integrates with your legacy's back end systems, as well as Artificial Intelligence and Big Data to identify subscriber needs and wants.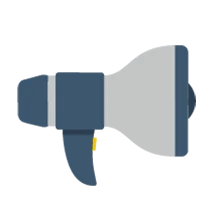 Marketing Campaigns Application

Automate and send notifications to millions of subscribers with customized offers or messages.
Send everything from run-of-the-mill payment notifications to the entire base to IoT offers for high-value customers. All simultaneously. Automatically trigger offers based on pre-established criteria, like meeting a data usage threshold.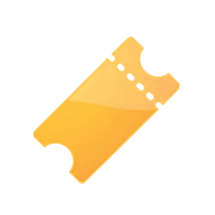 Coupon Management Application
Create a centralized, trackable, and manageable strategy for issuing coupons.
Retailers, account managers, and dealers can create coupons for SMS, email, mobile app, social media and web banner ads, and then route them for brand approval. The software integrates with any type of POS system to identify coupon validity (expiry date, previous usage, etc.) and track coupon performance. Plus, much more.

Loyalty Rewards Application
Provide a loyalty program that adjusts rewards, based on subscribers' preferences.
The program can take into account customers' likes and dislikes to adjust rewards in real time. Plus, it can integrate seamlessly with "manage my account" portals to keep the program top of mind.
Build More Positive Experiences with the Brand

Use these applications to improve both online and offline interactions with the company
Manage and Prioritize
Departmental Communications

Communications Manager

Coordinate and prioritize all communications to subscribers – marketing offers, loyalty notifications, collections notices, and much –  from one centralized location.
Regulate how often subscribers get notifications, surveys, offers, and from which department
Prevent conflicting messages that poke subscribers in the eye. For example, send collections notifications on Tuesday and then marketing offers on Wednesday
Survey Your Existing Customers
After Calls, Visits & More
Surveys

Survey your existing subscribers after a call to customer services, retail store visit, online interaction, on-premise sales call or just about anything else.
It's the perfect tool to discover what subscribers are thinking in real-time. Send surveys via SMS, MMS, USSD, email or even via your self-care application.
Integrate Applications with Billing, CRM, Online Portals and Much More
Unlike many standalone marketing programs, Beesion's marketing suite can integrate and interface with any backend system or application easily. It's made specifically for the telecom marketplace. Applications have been integrated with all the big names in the telecom market. So your IT department can rest easy.
Plus, it's simple to automatically trigger coupons, offers, surveys, or promotions based on customer activity (such as meeting a usage threshold or visiting a store). Integrating with AI and Big Data is also a snap.
Speed Up Your Business with Microservices
Beesion's Marketing Suite is developed on a distributed architecture of microservices, which can be implemented cloud or on-premises.
Business processes and data repositories are detached from channels, so it brings a true digital omnichannel experience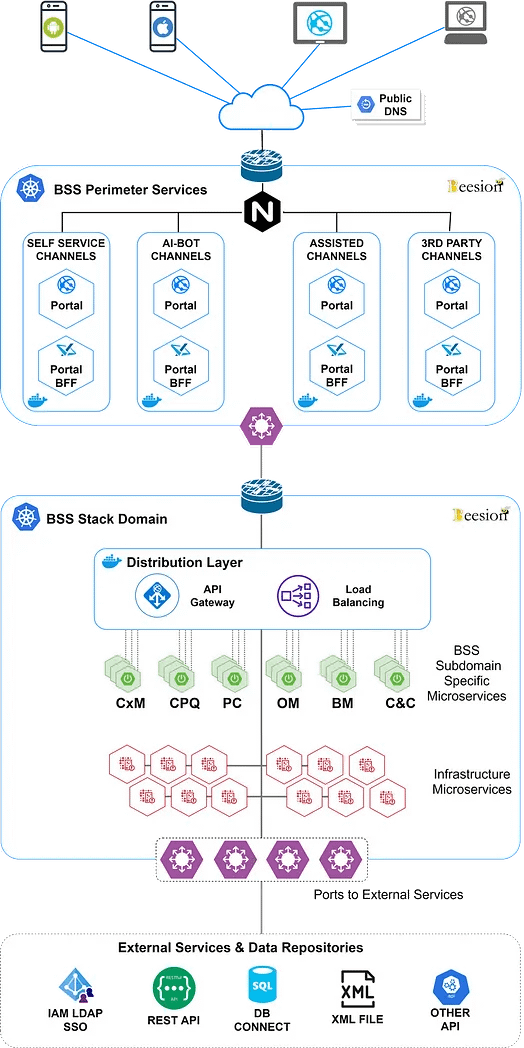 Unified Customer Experience
The user experience is consistent regardless of the interaction channel. Beesion's solutions are based on a genuine Omnichannel Architecture.
Native Omnichannel Support
Customer Journey tracking and Customer Engagement actions are naturally supported in a flexible architecture, designed for constant adaptations and evolution. This is a next level of adaptability to better engage the customer along their journey on any channel.
Business Interactions
A unified point for omnichannel process governance is established. Each BSS subdomain is supported by a group of specific microservices, business rules are set there.
Unified Infrastructure Services
A set of shared microservices completes the architecture. These services allow Automated Deployment, Adaptive Scalability, Metrics Acquisition, Load Balancing and High Availability. Inversion of Control for Decoupling is used so no direct dependencies are set.
Beesion has designed and created +100 reusable microservices for telecom industry based on more than 10 years of experience in the market. Beesion software is created combining those microservices. The whole development process is straightforward and several times faster, allowing continuous innovation, enabling quicker launches and easy configuration.
Quick to Deploy and Expand
Software Sits on Top of Your Systems

There's no downtime or disruption of services because Beesion's omnichannel Marketing suite sits on top of your systems, consolidating and orchestrating the data. Using a rich set of connections, the suite connects to any legacy system, as well as all Beesion applications.
Follows TM Forum Standards
Beesion applications follow TM Forum guidelines, the telecom industry blueprint for enabling successful business transformation.

Beesion's Low-Code Software
Unlike traditional software, Beesion's applications are created using Low-Code Development. Modifying an application is a configuration process, using a set of graphical editors, including workflows, process templates, and editing tools. Easy to change.