Mobile POS Software with a
360° Customer View
Personalized Customer Recommendations, Faster Check Out, and Seamless Fulfillment of Telecom Orders
A mobile or desktop software portal to sell, service, and fulfill telecom orders, all from one place.

Using data and functionality from multiple applications, the POS 360° portal provides a panoramic, 360-degree-view of each subscriber and the ability to conduct a wide variety of sales and customer service transactions.
Walk Outs & Missed Opportunities
Upgrading a phone, changing rate plans, or adding new services should be quick and simple. But at some telecom stores, it's not that way. First, there's a long line. Then, the reps can't find a plan to meet subscribers' needs, or they don't know if there's available inventory. And finally, it takes forever to check out because the rep has to consult multiple systems. The result: subscribers walk out frustrated, and the company misses both a sales and retention opportunity.
Step Up the Purchase Experience
With Beesion's
 POS Portal 360°
, every interaction at a company-owned store, dealer store or even telesales call can be a superior – and profitable – touchpoint no matter how little training reps have. Beesion's mobile POS software with a 360° customer view enables reps to 
find eligible rate plans
, proactively make suggestions, take multiple forms of payment and 
fulfill orders quickly
. You can even set up 
automated line queue and appointment setting options
. Adding functionality is as simple as adding applications.
Mobile POS Software with a
360° Customer View
Beesion POS Portal 360° enables telecom reps – in any retail channel – to provide more personalized service and enhance the purchase experience.
Using a single portal, reps can get:
Reps can also leave their station because the solution can be used on iPads and mobile devices.
The telecom POS portal combines multiple applications to provide all the info needed to get customers in and out of the store quickly, with the best products and services for their budget. Using an array of connectors, it integrates with Beesion applications, plus all legacy billing, POS check-out, and order systems, as well as ERP Systems, inventory and other BSS/OSS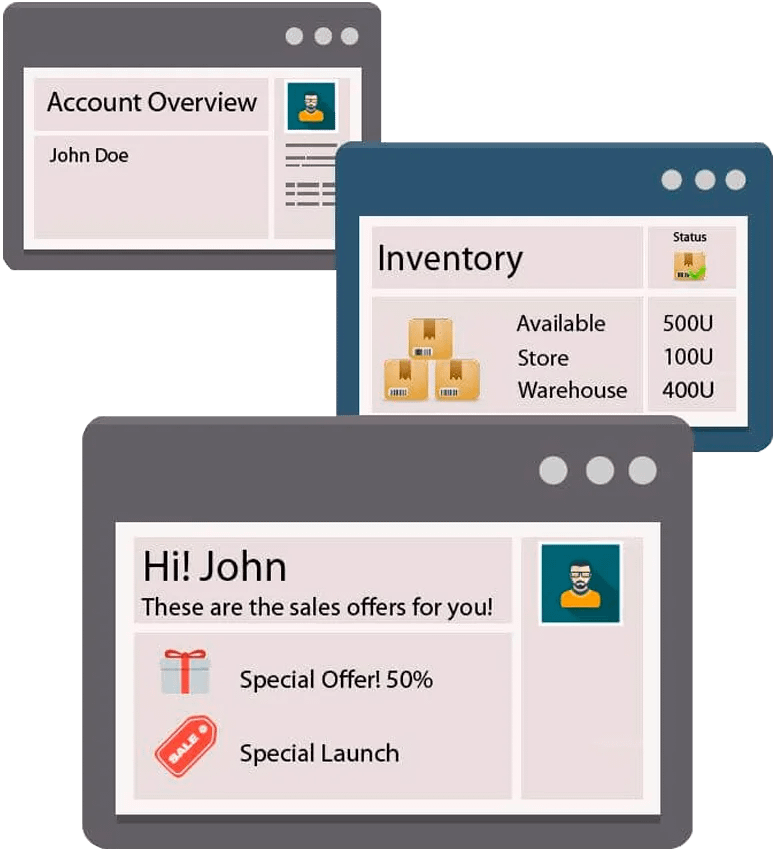 Revenue & Customer Service Benefits

Reduce Wait Times
Include Beesion's Store Greeter application as part of your telecom POS solution to set up an automated line queue. Customers will appreciate the predictability and perceive the wait as more tolerable. The software also includes appointment-setting capabilities.
Provide More Personalized Service
Reduce Order-to-Cash Cycle Time
Using Beesion's 
Order Management application
, sales order processing, order fulfillment, and order control are all tightly integrated into one application. So once a customer places his order, everything is processed downstream in one workflow.

Decrease Time to Serve
Eliminate the hassle of purchasing a wireless device. In minutes, not hours, reps can start and finish the sales process, including browse offers, 
check credit
, 
find inventory
, 
identify financing terms
, 
put the purchase in the shopping cart
, 
proceed to check out
, 
process order
, 
remove from inventory
, and 
accept payment
. They don't have to consult multiple systems. It's all integratedand seamless within the telecom POS solution.
Increase Convenience
Beesion's mobile POS solution supports omnichannel processes that enhance the overall customer experience, including:
– online purchase with pick-up at a store
– in-store purchase with home delivery
Plus, the software can support robotic greeters, who can chat with customers, answer questions, and give directions.
Enable New Customer Experiences
Since it's easy to change business rules on the fly, the solution can adapt new processes to serve customers better.
For example, say a high-value customer wants to return his new phone on day 31, even though there's a 30-day return policy.  The POS solution can identify the customer, accept the return, and trigger a RMA. The new process will be captured, and even validated with management. Other IoT and 5G innovations are also easy.
POS Portal 360° Applications

To enable multiple types of transactions and processes, the Beesion mobile POS software with a 360° customer view uses applications responsible for different aspects of the customer experience. Here are the applications often used in the solution:
Speed Up Your Business with Microservices
Beesion's POS Suite is developed on a distributed architecture of microservices, which can be implemented cloud or on-premises.
Business processes and data repositories are detached from channels, so it brings a true digital omnichannel experience
Unified Customer Experience
The user experience is consistent regardless of the interaction channel. Beesion's solutions are based on a genuine Omnichannel Architecture.
Native Omnichannel Support
Customer Journey tracking and Customer Engagement actions are naturally supported in a flexible architecture, designed for constant adaptations and evolution. This is a next level of adaptability to better engage the customer along their journey on any channel.
Business Interactions
A unified point for omnichannel process governance is established. Each BSS subdomain is supported by a group of specific microservices, business rules are set there.
Unified Infrastructure Services
A set of shared microservices completes the architecture. These services allow Automated Deployment, Adaptive Scalability, Metrics Acquisition, Load Balancing and High Availability. Inversion of Control for Decoupling is used so no direct dependencies are set.
Beesion has designed and created +100 reusable microservices for telecom industry based on more than 10 years of experience in the market. Beesion software is created combining those microservices. The whole development process is straightforward and several times faster, allowing continuous innovation, enabling quicker launches and easy configuration.
Quick to Deploy and Expand
Software Sits on Top of Your Systems

There's no downtime or disruption of services because Beesion's omnichannel POS suite sits on top of your systems, consolidating and orchestrating the data. Using a rich set of connections, the suite connects to any legacy system, as well as all Beesion applications.
Follows TM Forum Standards
Beesion applications follow TM Forum guidelines, the telecom industry blueprint for enabling successful business transformation.

Beesion's Low-Code Software
Unlike traditional software, Beesion's applications are created using Low-Code Development. Modifying an application is a configuration process, using a set of graphical editors, including workflows, process templates, and editing tools. Easy to change.