Beesion Technologies establishes global partnership with Oracle to accelerate the digital transformation for Communication Service Providers
Fort Lauderdale, FL, October 16th, 2020 – Beesion Technologies, the pioneer of Low-Code BSS software, announced today it has partnered with Oracle to increase its global reach in the communications sector and gain access to more enterprises in pursuit of the digital transformation journey.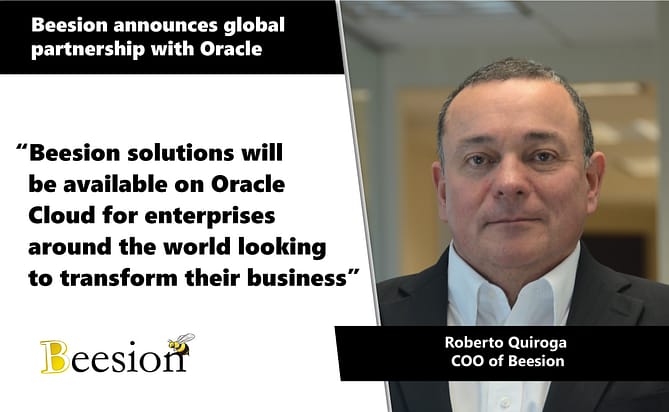 Through this strategic partnership, a flexible and modular solution architecture will be available with applications and components from both companies. With this enhanced architecture, more enterprises from different industries, could drive their digital transformation and support a digital strategy in the short term. 
Beesion will bring its well proven BSS components, including a CPQ based on Federated Product Catalog, CRM with Customer Engagement (CxM Suite), Credit and Collections suite, and Customer Order Management, among others. These Low-Code components, based on a microservice architecture, will complement Oracle applications and solutions. 
Both companies have recently signed the TM Forum Open API Manifesto, which creates a unique synergy to drive agility to the communications vertical market, reducing costs, risks and time-to-market. This enables highly automated operations and management of complex services end-to-end across digital ecosystems. 
"Digital Transformation is in every enterprise agenda, and through this partnership, more companies will have access to the right tools to evolve", said Roberto Quiroga, COO of Beesion.
"Beesion solutions will be available on Oracle Cloud for enterprises around the world looking to transform their business", Quiroga remarked.
About Beesion Technologies
Beesion is the pioneer of low-code telecom BSS. The 12-year-old global company offers more than 30 low-code applications to help telecom companies bring new digital services to market, manage, monetize and monitor them, personalize the engagement with subscribers, improve/automate care interactions, through omnichannel digital transformation. Applications can be deployed on cloud or on-premises, in a carrier-grade microservices distributed architecture that scales. Using enterprise low-code technology, it can launch 10x quicker than with traditional development. Plus, they are easy to update and simple to support. The company ranks Number #403 Fastest Growing Company in North America on Deloitte's 2017 Technology Fast 500™.
Learn more about Beesion at www.beesion.com
About Oracle
Oracle Communications, an Oracle Corporation Global Business Unit (GBU), provides integrated communications and cloud solutions for Service Providers and Enterprises to accelerate their digital transformation journey in a communications-driven world from network evolution to digital business to customer experience.
Learn more about Oracle Communications at  www.oracle.com/communications