Manage Credit & Collections from Pre-Sales to Post-Sales
Use Three Low-Code Applications to Steer Credit and Collections Policies

Starting at pre-sales, use Beesion's Credit Analysis software to check credit. Then, use Payments Management to collect subscriber payments and apply them to their accounts. Post-sales, reduce bad debt and DSO with Beesion's Collections Management software.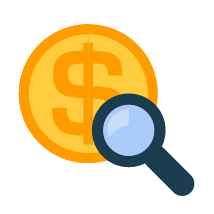 Check Eligibility

Evaluate a prospect's likelihood to pay bills
Collect & Apply Subscriber Payments

Plus, expand payments channels to ATMs, kiosks & more
Collect Unpaid Invoices & Prevent Bad Debt

Address every stage of the recovery process
React to external and internal forces
With point-and-click tools, adjust applications to address market trends, customers' payments behavior, and changing regulations and financial requirements.
Steer and control credit, payment, and collection policies.
All without custom code.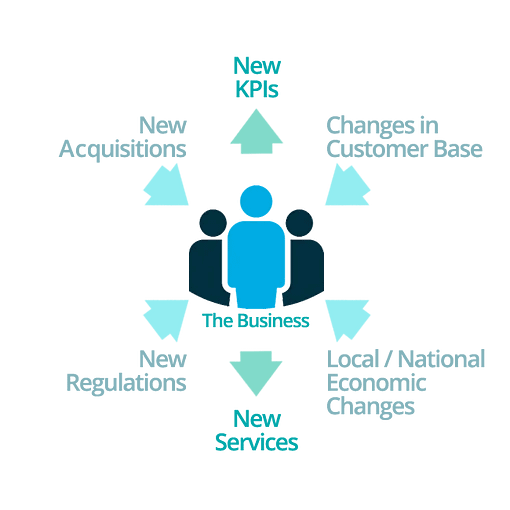 Improve Working Capital and Reduce DSO

Applications integrate with each other and legacy systems to create a single credit-to-cash workflow
Evaluate
Evaluate customer's credit worthiness
Collect
Collect customer payments
Automate
Automate Payment Due Reminders
Warn
Send Warning Messages
Assign
Assign to Collections
Determine
Determine when to write off bad debt
Create More Effective Collection Policies With More Predictive Credit Scores
Make each application smarter and more predictive by sharing data about customers' fit and behavior.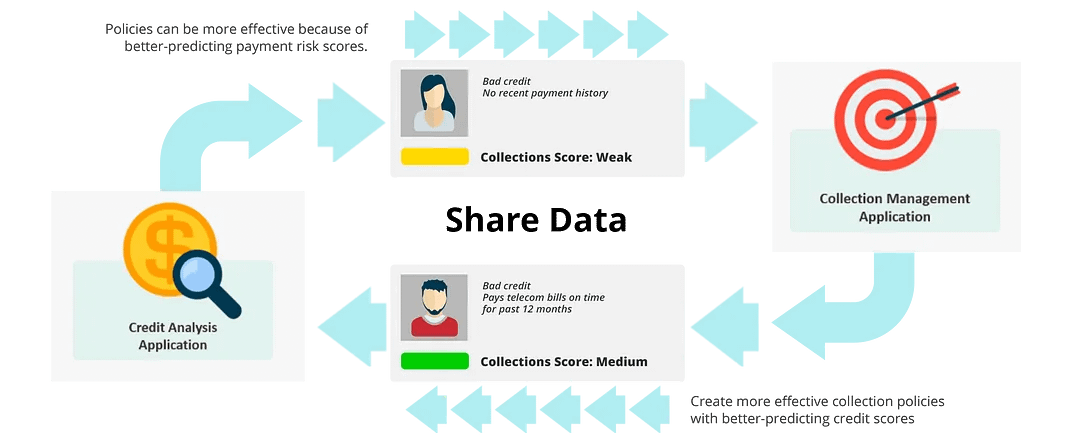 Collect More Debt While Enhancing the Customer Experience
Use all three applications to create a secure online portal where subscribers can pay their debt in arrears without the intrusion of a collector's call.
Subscribers can select payment plans and even receive discounts. If they don't honor their commitments, their service is automatically suspended.
To protect carriers' margins, the portal extends more lenient payment terms to credit-worthy subscribers.
Set up a secure, online portal where subscribers can pay their telecom debt in arrears. The portal displays all of a subscriber's past-due invoices from every service line. It then provides payment plan options, based on the subscriber's value, credit limit, and other configurable factors.
Subscribers get a more private, convenient method to pay their debt(s), while carriers increase debt collections' ratios. In fact, carriers can realize at least a 50% increase in the number of subscribers that honor their payment commitments via the debtors' self-pay portal vs a phone call with an agent, per Beesion analytics.
Increase Convenience with a Self-Pay Debtors' Portal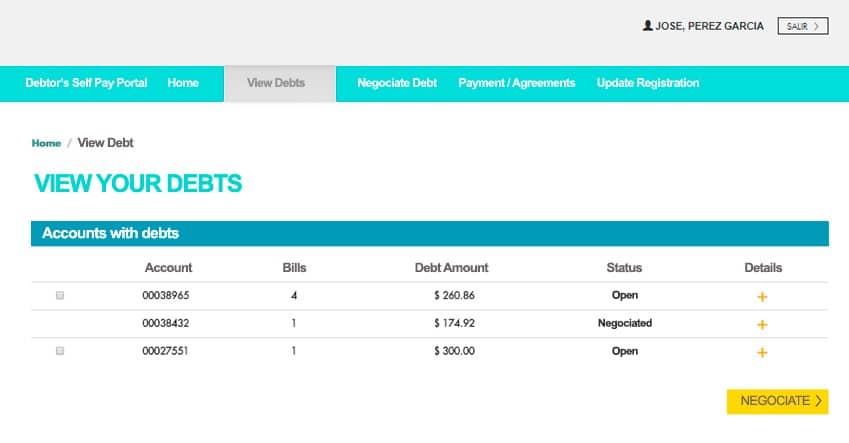 More Subscribers Honor Their Payment Commitment

Based on Beesion analytics, carriers can realize at least a 50% increase in the number of subscribers that will honor their payment commitments via the debtor's self-pay portal.
Balance Service Usage with Non-Payment Risk
With more predictive analytics and dynamic flexible applications, carriers can better control risk and collections activities, without poking customers in the eye. It integrates directly with Order Management.
Moreover, the software suite also is intelligent enough to handle corporate collections. Should a client have concerns about part of his bill and refuse to pay for specific services, the suite can shut off only the services that haven't been paid, not the whole account.
No Pay, No Service
If the subscriber doesn't pay on time, the account is deactived (subject to the carrier's rules)
Speed Up Your Business with Microservices
Beesion's Credit And Collections Suite is developed on a distributed architecture of microservices, which can be implemented cloud or on-premises.
Business processes and data repositories are detached from channels, so it brings a true digital omnichannel experience
Unified Customer Experience
The user experience is consistent regardless of the interaction channel. Beesion's solutions are based on a genuine Omnichannel Architecture.
Native Omnichannel Support
Customer Journey tracking and Customer Engagement actions are naturally supported in a flexible architecture, designed for constant adaptations and evolution. This is a next level of adaptability to better engage the customer along their journey on any channel.
Business Interactions
A unified point for omnichannel process governance is established. Each BSS subdomain is supported by a group of specific microservices, business rules are set there.
Unified Infrastructure Services
A set of shared microservices completes the architecture. These services allow Automated Deployment, Adaptive Scalability, Metrics Acquisition, Load Balancing and High Availability. Inversion of Control for Decoupling is used so no direct dependencies are set.
Beesion has designed and created +100 reusable microservices for telecom industry based on more than 10 years of experience in the market. Beesion software is created combining those microservices. The whole development process is straightforward and several times faster, allowing continuous innovation, enabling quicker launches and easy configuration.
Quick to Deploy and Expand
Software Sits on Top of Your Systems

There's no downtime or disruption of services because Beesion's omnichannel Credit And Collections suite sits on top of your systems, consolidating and orchestrating the data. Using a rich set of connections, the suite connects to any legacy system, as well as all Beesion applications.
Follows TM Forum Standards
Beesion applications follow TM Forum guidelines, the telecom industry blueprint for enabling successful business transformation.
Beesion's Low-Code Software
Unlike traditional software, Beesion's applications are created using Low-Code Development. Modifying an application is a configuration process, using a set of graphical editors, including workflows, process templates, and editing tools. Easy to change.