Beesion's Low-Code Software Improves the Returns & Repairs Experience
Converts it into a Great Brand Touchpoint
Ft. Lauderdale FL, May 09, 2018–Beesion, a pioneer of low-code software, has added new functionality to its Reverse Logistics software to make returning a device or repairing it much faster and easier, helping to convert the experience into a great brand touchpoint.
"Carriers and retailers need to make the returns/repair experience just as satisfying as the purchase experience," said Gustavo L. Merchan, Beesion CMO. "Quick and hassle-free returns/repairs can inspire loyalty in a very competitive marketplace and also lead to additional sales opportunities. Our Reverse Logistics software helps do both."
Moreover, subscribers are more inclined than ever to return devices and products they don't like. Based on recent retail studies, returns and overstocked goods have been growing at 7.5% a year. And retailers overall have return rates of 8-10%, with online sales seeing return rates in the range of 20%-30%.
Against this backdrop, Beesion has incorporated several new functionalities into its Reverse Logistics software to help telecom companies and electronics retailers improve the returns and repairs experience to inspire more loyalty and improve the customer experience:
Omnichannel returns/repairs – customers can return/repair their devices/electronics/products in-store, online, via a call center, or even through a chat bot
Repair, loaner, or exchange – insurance and protection subscribers have the option to repair their broken device with walk-in, mail-in or mobile technician options, get a loaner device, or exchange the broken device under their protection contract
Repair store queues and stations – using modules from Beesion's Store Greeter software, establish queues and stations to address returns/repairs/trade-ins and reroute the traffic in a minute should the store traffic flows change.
Keep the customer in the loop – provide customers with automated notifications on repair status, as well as a web interface with tracking information.
Expedited repairs – elevate repairs based on customer profiles, as well as automate repair technician assignments
In addition to managing the returns and repair processes, Beesion's low-code reverse logistics software addressees every reverse logistics step, from receipt all the way through dispositioning. It provides an end-to-end solution, with complete flexibility.
Beesion's Reverse Logistics Solution Can Address Every Source, Channel, Process and Disposition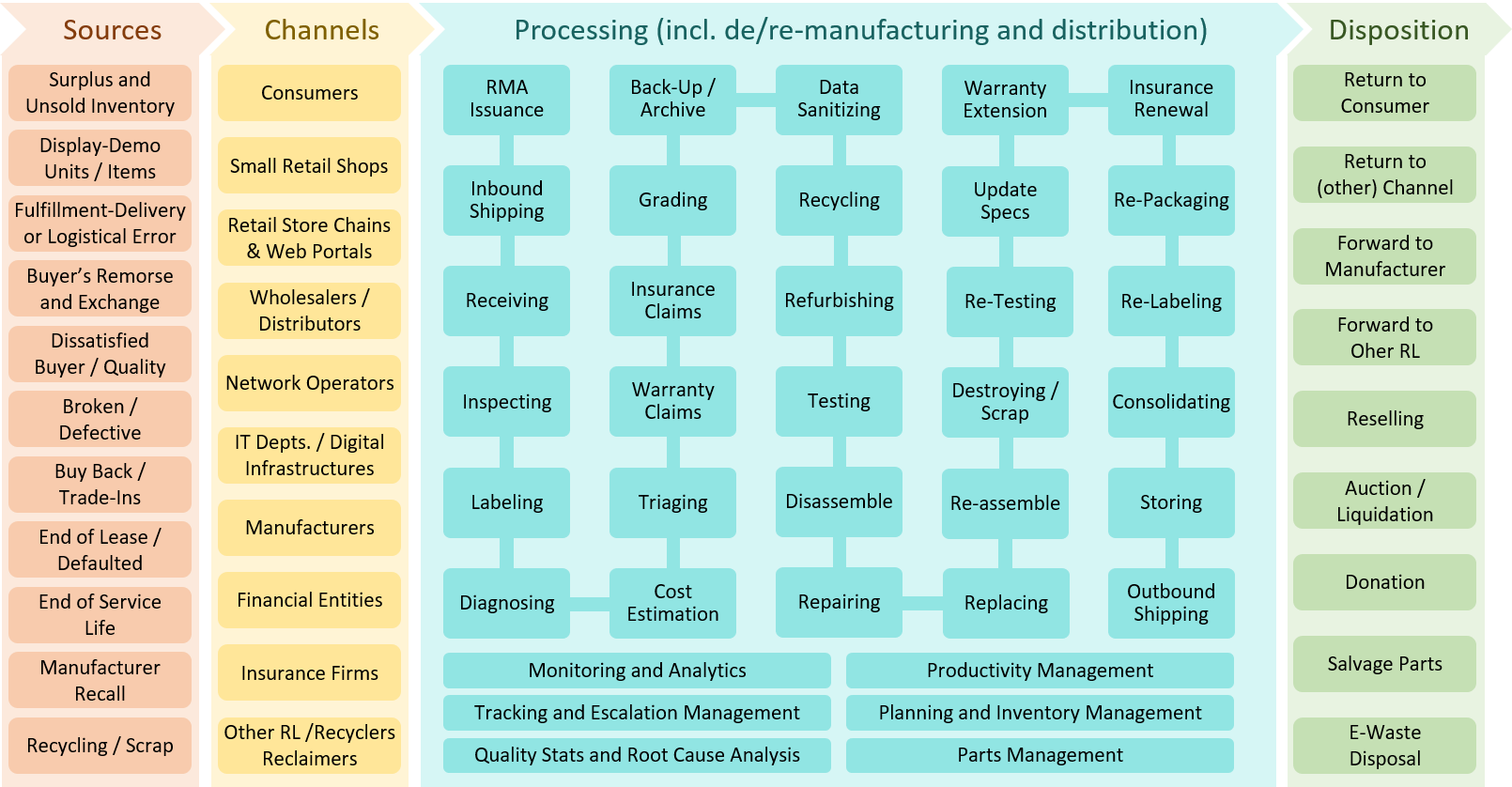 Beesion's Reverse Logistics software uses Beesion's low-code software platform. Unlike traditional software development, low-code technology uses little to no custom code,
making it exceptionally quick to launch, update, and expand.
Developers use a visual model to configure all functionality, using drag-and-drop tools to modify work flows, data models, interfaces, and business rules. Then, these models – supported by Beesion's underlying low-code platform – generate the code to construct the software stack.
The Reverse Logistics low-code software can be modified and expanded with point-and-click tools, not code. In just minutes, a business analyst with a little training can add vendors, change processes, or modify business rules and workflows, automatically updating all the downstream processes.
"Our Reverse Logistics software is extremely flexible. It enables retailers to optimize processes quickly, make continuous changes, and enjoy complete visibility," Merchan said. "And now, it helps retailers offer a superior returns and repairs experience."
Beesion's reverse logistics software can be deployed on Amazon cloud, private clouds, or on premises.
About Beesion
Beesion is the pioneer of low-code telecom BSS. The 10-year-old, global company offers more than 30 low-code applications to help telecom companies manage, monetize, and monitor their offerings. Applications can be deployed on cloud or on-premise with carrier-grade service. The company ranks Number #403 Fastest Growing Company in North America on Deloitte's 2017 Technology Fast 500™. Learn more about Beesion at www.beesion.com