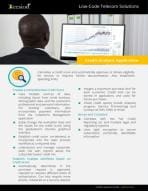 Credit Analysis Application
Identify which telecom customers are likely to pay their bills with our low-code, credit analysis application. It features a powerful credit-risk scoring engine, plus predictive analytics and up-to-date data from multiple credit bureaus. Complies with the Fair Credit Reporting Act and multiple legal/regulatory systems. Plus, update the application using visual tools, not code, as processes change.
Please provide your name and email to download.
Related Applications from this Department