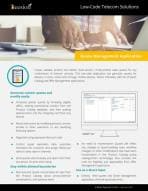 Quote Management Application
Create accurate and real-time sales quotes for wireless, cable and telecom services. With our low-code software, your sales teams can incorporate multiple parameters, everything from the number of account lines, eligible discounts and promotions, available inventory and more. The software seamlessly integrates with your systems to provide real-time information, and also formats quotes for presentation online, instore or via mobile. Plus, adjust quotes in seconds to meet customers' budget needs.
Please provide your name and email to download.
Related Applications from this Department