Beesion Partners with Change Management Consulting Company, Greencastle Associates
Partnership to Assist Clients Adjust to Shorter and More Efficient Processes
Ft. Lauderdale, FL, October 24, 2017 — Beesion Technologies, the pioneer of low-code telecom software, has partnered with Greencastle Associates Consulting to help its global software clients adjust to and adopt operational changes that accompany Beesion's rapid software deployments.
Beesion's low-code software is often used to overhaul and revolutionize long-standing processes because it's quick to launch and simple to expand. It uses little to no code, instead relying on prebuilt software modules and drag-and-drop tools. As such, it can help companies retool entrenched processes in a fraction of the time needed by traditional software.
"Greencastle has extensive change management experience. We believe they can help our clients adjust to new processes and new ways of getting jobs done."
Gustavo Merchan, Beesion CMO.
The partnership will focus on reverse logistics projects, inventory management projects, and other operational projects that often have many moving parts that work together and are spread out among warehouses, retail channels, vendors, and other places.
In additional to change management, Greencastle may also help Beesion with project management and process improvement strategies for its telecom clients.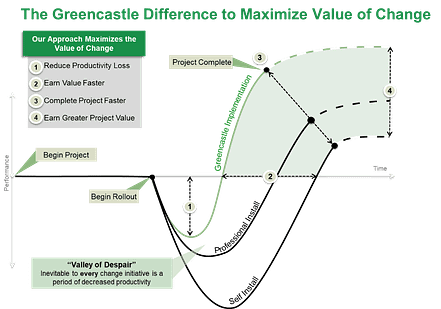 "All new processes have a cycle. Initially, there's great excitement about the change. But as time goes on, enthusiasm wanes. We help companies mitigate and avoid that 'Valley of Despair'."
Joe Crandall, Greencastle Partner.
Beesion provides a broad range of low-code software applications for telecom companies. It's Telecom Reverse Logistics Software and Telecom Inventory Management software is deployed in Tier 1 telecom companies and reverse logistics providers.
Merchan said Beesion selected Greencastle because of its telecom and military experience. Greencastle is 100% veteran owned and was founded by Army Rangers.
Note to Editors:
About Beesion
Beesion is the pioneer of low-code telecom software. In addition to operational software, it has deployed low-code CRM, Mobile POS and CPQ solutions for the world's top multi-network carriers. Learn more about Beesion at www.beesion.com
Contact:
Gustavo Merchan
gmerchan@beesion.com
+1 954-414-4600
About Greencastle Associates Consulting
100% Veteran owned and operated. Greencastle Consulting is a management consulting firm that is unique in its approach to critical projects. Founded on a strong military background, Greencastle has been providing metric-driven results to organizations in the Delaware Valley since 1997.
Contact:
Joe Crandall
crandallj@greencastleconsulting.com
+856.685.0737