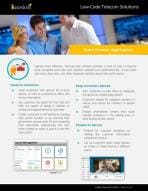 Store Greeter Application
Improve retail store efficiency and facilitate sales with our low-code, Store Greeter software. Used in tablets, standalone kiosks, and digital signage, it includes an automated line queue, appointment-setting capabilities, goodbye messaging and more. Integrate Store Greeter software with the Beesion Retail Sales application to help reps prepare for customer conversations.
Please provide your name and email to download.
Related Applications from this Department